AutoPilot
Trimble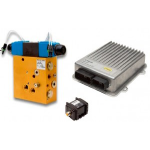 The Trimble AutoPilot automated steering system uses your vehicle's hydraulics to control your path. Extend your operating hours so you can work when you need to, maximize the precision of your rows, and even decrease fuel and input costs. T3 terrain-compensation technology (correcting for vehicle roll, pitch, and yaw) ensures the AutoPilot system works on slopes and rough terrain. With the OnSwath line acquisition upgrade, get a tailor-made fit for your driving style!
While most vehicle platforms require installation of a hydraulic valve block to interface with the OEM steering pump, many newer vehicles allow steering control via CAN connectivity of the OEM steering valves. This option would reduce equipment and installation costs.
NOTE: Steering performance is dependent on many factors, including the condition of the OEM steering components. This system will not "fix" misalignment, worn-out ball joints, and such. If your steering system is factory-fresh, then you will like this addition.
Trimble supports an option to utilize the AutoPilot NavController with the EZ-Pilot SAM-200 motor unit on select vehicle platforms. This AutoPilot Motor Drive (APMD) option would provide the most sensitive and responsive assisted steering with an installation that can be performed in minutes, not hours. Contact us for details.
EDIT: The NAV-900 GNSS controller also provides roll/pitch/yaw correction data, similar to a NavController unit. For vehicles that require an aftermarket hydraulic valve kit, there is a VDM-912 valve driver that pairs with an AutoPilot-licensed NAV-900 controller.