YieldSense
Precision Planting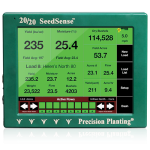 After spending time and money placing the seed in optimal conditions you want to see the most accurate results to make educated decisions for next year.
Current technology falls short. Changes in hybrid varieties, test weights, combining speed, moisture, and mass of grain passing the grain sensor all of varying results on yield data. Precision Planting YieldSense works with any crop including corn, beans, and wheat.
Grain can be thrown in many different directions in other flow sensors. Precision Planting YieldSense changed how grain flow is measured. Placing the newly designed sensor at the top of the clean grain elevator, it measures the mass of corn before it is released by the paddle.
Four ways the Precision Planting YieldSense system can provide accurate results:
No calibrating of small loads at different speeds and widths are needed.
Placing the flow sensor in a location that different flow rates will affect yield results along with new elevator chain to control the throw of the grain.
Gather and report hybrid yield results from actual planting data through FieldView without having to import or transfer any data.
Ties into existing CAN system on combine for moisture and header details eliminating additional costs.