Yield Monitoring
Ag Leader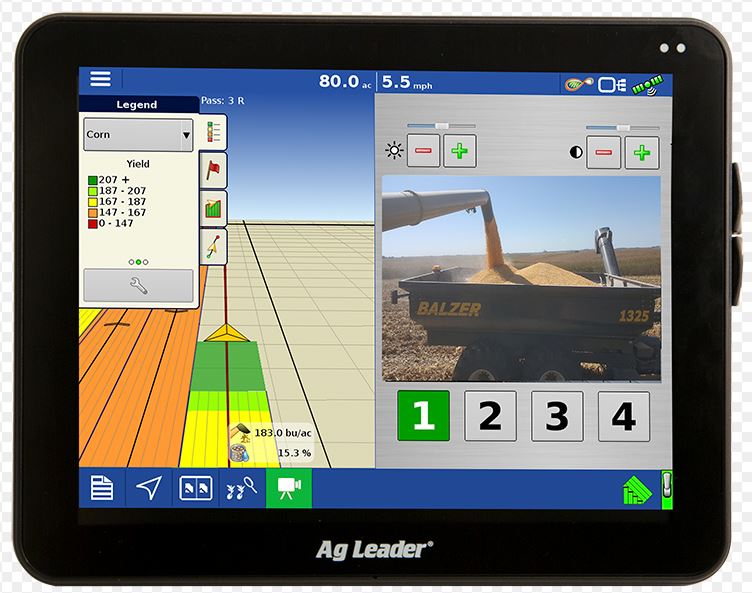 After the amount of time, money, and materials you put in to growing that crop, don't you need to know what the results are at harvest time? Of course you do. Add a yield-monitoring system to your combine so that you can keep up with quality throughout the harvest.
Depending on the make and model of combine, the typical yield-monitoring kit includes interface cables to monitor ground speed, elevator speed, and header-height position; a grain moisture/temperature sensor; a grain flow sensor (impact style); and CAN modules to communicate with the in-cab display. However, some interface kits are less involved because the combine already has a complete monitoring system (like CLAAS Quantimeter), or compatible components are already installed (like the John Deere S Series).
Benefits of the Ag Leader Yield Monitoring system include:
AutoSwath – data is recorded based on the number of rows being harvested providing more accurate data.
Yield & Moisture Mapping – view the (estimated) yield and moisture maps in real time across the field.
Hybrid/Variety mapping – overlay planting maps with real-time harvest to view instant yield and moisture variations by hybrid and varieties in the field (Integra display only).
View summary screen to learn at a glance the overall performance of harvested crop.
Utilizing the InCommand 1200 split-screen feature, you can view a reference layer (an in-season nitrogen application, for example) side-by-side with the harvesting layer. This allows you to see in real time what impact the earlier activity may have had on harvest.