Tru Count Clutches
Trimble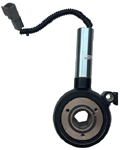 SINCE 2020 — CHECK OUT TRU COUNT ELECTRIC METER CLUTCH! AIR CLUTCH IS NO LONGER AVAILABLE TO ORDER.
SUMMER 2022 — TRU COUNT ELECTRIC HEX-SHAFT CLUTCH (HALF-WIDTH DISCONNECT) IS NO LONGER AVAILABLE TO ORDER.
Trimble Tru Count clutches provide shutoff capabilities to your planter, regardless of whether it is ground-driven or hydraulically controlled.   With the Tru Count Section (hex-shaft) clutch, you can set the hex shafts to turn only when you need them.  Or, you can attach a Tru Count Row (meter) clutch to each meter and create multi-row or single-row control.
As of 2020, the Tru Count Air Row clutch has been replaced with an Electric Row clutch. Even though the pneumatic Tru Count clutch utilizes pressurized air, the sectional-control module requires 12-volt power to regulate when each section must be "charged" with the air supply. The meter (or hex shaft) STOPS when power (air or voltage) is applied. This allows for several advantages:
if an air line or electrical wire is disconnected, your meters will keep planting;
sectional control works with several controllers on the market, including Precision Planting, Ag Leader, and Case-IH—or manually;
you can use a Trimble or Precision Planting electric/hydraulic air compressor
Like most equipment exposed to dusty, harsh conditions, either clutch benefits from simple routine maintenance. See our links below for Trimble's maintenance guides for the air clutch and the electric hex-shaft clutch—some part numbers for repair parts are listed in these documents. At this time, there is no maintenance guide for the electric meter clutch.
Check out the frequently-asked questions document below. Contact us if you have questions!