Row Cleaners
Yetter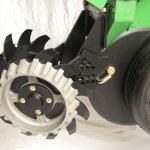 Preparing the seed bed is equally as important as getting the seed in the correct spot.
Moving residue out of the way and allowing for an environment that can warm up faster and be clear from obstacles preventing even emergence.
Floating row cleaners allow for the changes that occur through the field vs a fixed depth row cleaner.  Contact us to learn more.
Precision Ag Solutions offers the full line of trash cleaners from Yetter for all planter makes and row sizes.