Keeton Seed Firmer
Precision Planting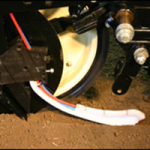 Consistent depth control is the most important job of your planter. Even the depth by a ½ inch or more. Precision Planting Keeton Seed Firmers gently set seeds to the bottom of the trench. A thin piece of poly slides down the seed trench, trapping seeds as they exit the seed tube and firming them into the bottom of the trench ensuring the ideal seed depth. best maintained planter could vary its
Even the best maintained planter could vary its depth by a ½ inch or more. Precision Planting Keeton Seed Firmers gently set seeds to the bottom of the trench.
The Precision Planting Keeton Seed Firmer won't collapse the seed trench and drag soil in around seeds.
Help increase yield by 6 or more bushels by placing the seed at the bottom of the trench and allow for even emergence.
FAQ
Are the firmers hard to mount?
Each Keeton Firmer can be mounted in ten to fifteen minutes with no special tools required. Download the instructions below.
Will the firmers move the seed in the trench?
No, the Keeton Seed Firmer is specifically designed to place the seed at the bottom of the v in the trench preventing any dragging.
How long with the firmer last?
It depends on how abrasiveness of the soil. Generally, after 300 acres per row wear will start to reduce the helpfulness of the firmer.