eSet Meters
Precision Planting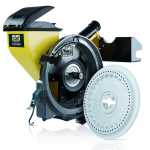 In their short existence the Precision Planting e-set vacuum meter has become one of the top meters in the market for seeding accuracy and flexibility. The eSet can singulate to any seed size or shape, the disc is not seed sensitive because there is no pocket or cell. The eSet will improve seed release because the raised platform means seeds release down the center of the seed tube minimizing seed tube ricochet. There are also no adjustments to make when you switch seed brands, you'll get a 98.5 % singulation or better without have to adjust your vacuum or double eliminators.
With the Precision Planting e-set you'll also get better seed agitation. Seed treatments can inhibit singulation because seeds pack together at the bottom of the meter. Precision Planting eSet has an aggressive seed agitation that keeps the seed pool fluid for better loading.
FAQ
What vacuum setting should I set my planter with new eSets?
The recommended setting for eSets is 18" of vacuum. Higher vacuum will not hurt anything other than apply additional wear to the vacuum system.
Why should I switch to eSets over my current meters?
The most important reason is improved seed accuracy regardless of seed shape or size. No fine tuning is needed when switching from one hybrid to another.
What planters to eSets work on?
eSets are designed for John Deere planters with vacuum systems. They work with individual hopper planters and central fill (CCS) models.