20/20 SeedSense Planter Monitor (Gen 1 or Gen 2)
Precision Planting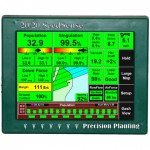 The Precision Planting 20/20 SeedSense is a planter monitor that not only measures seeding population and singulation statistics, but it also monitors how much bounce or "chatter" the row units are receiving while being dragged through the field. This comprehensive system better equips you to make the best economic decisions about current planting conditions. A simple green-yellow-red color scheme makes it easy to diagnose mechanical problems you didn't even know you had, and to dial in the best performance by adjusting meters, vacuum pressure, transmissions and speed.
Five ways the 20/20 SeedSense system can help every planter:
Achieve peak accuracy with each row
Plant at a speed that will not hurt seed accuracy
Attain the desired depth through applying enough row weight
Detect debris in a meter that can cause skips
Measure row-unit downforce
There are three key components to the 20/20 Seed Sense Planter Monitor:
Smart Connector – mounted on the planter, the Smart Connector gathers the information from the seed tubes and processes it into more valuable information
Down Force Sensor, a.k.a. "Smart Pin" – measures how much weight is on the gauge wheels, so that you can manage enough force to cut the seed furrow while not creating a root-compaction zone with excessive force
Row Unit Module – bolted to the row unit, the built-in accelerometer indicates how smoothly the row units are riding ; see the impact this ride is having on seed spacing
While the basic kit monitors all of these qualities of your planter, you can also use the 20/20 system to control the planter and apply seed and fertilizer. AirForce and RowFlow can be added to your Gen 1 display, while even more control capabilities can be added to your Gen 2 display. Whatever kit you get, you will have one of the most advanced displays on the market!