20/20 RowFlow
Precision Planting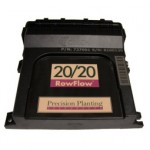 Now you can get all of the money saving benefits of swath control and variable rate all in one package with the Precision Planting 20/20 RowFlow. The 20/20 RowFlow teams with the 20/20 SeedSense to provide automatic control of variable rate drive systems (to change plant populations) and swath control (to shut off individual rows or sections of the planter).
The Precision Planting 20/20 RowFlow system provides variable rate and swath shutoff control.
It's a simple upgrade, no extra unlocks to allow swath control or variable rate populations.
The RowFlow system works with the 20/20 SeedSense (Gen 1 or Gen 2) to eliminate any extra need for an additional monitor.
Advantages of using Precision Planting RowFlow for Swath/Variable Rate:
Auto Calibration for row shutoff, no infield calibration or changes needed
Connects into existing 20/20 monitor
Interfaces with multiple clutch types and variable rate motors
Easy to load prescriptions into 20/20 from 3rd party or AutoMap
There are three key components of the 20/20 RowFlow:
RowFlow Control Module – the main component to the RowFlow system.  The module is the brains for controlling the motors and clutches for population and shuttoffs.
Cab Control Module – This is a small module that mounts below the 20/20 monitor and contains switches for on/off.
RowFlow Harness – This connects the RowFlow Control Module to the variable rate motors and clutch harness if installed.