20|20 (Gen 3)
Precision Planting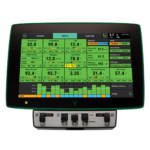 The first-generation 20/20 SeedSense display was a game-changer for farmers, enabling them to see planter and seed-meter behavior in real time that impacts the quality of the crop stand and, most importantly, the direct economic result of that behavior. The second-generation 20/20 SeedSense display introduced a CAN-bus-based wiring architecture to the planter, allowing much more data to be observed and processed than its predecessor. Precision Planting continues to evolve with their agronomic knowledge and real-field results—this is achieved with the "Gen 3" 20|20 display.
Featuring a 10-inch touchscreen display, the Gen 3 20|20 kit now has its primary processor and cable interface located in a rugged Display Base Module (DBM). The 10-inch touchscreen display is connected to the DBM by a simple Ethernet cable. This hardware combination allows for a much cleaner cab installation. Because the DBM has wi-fi connectivity, data transfer and diagnostic routines can be performed wirelessly. Up to three CANbus networks can be enabled with this system, providing MORE than enough data capacity for whatever row-unit accessories suit your ground.
If your planter has the SRM harnessing that was developed for the Gen 2 SeedSense display, then you can recycle that cabling for the Gen 3 setup.
NOTE: Neither the Row Unit Module (RUM), Rowflow, nor Airforce is compatible with the Gen 3 display.