20/20 AirForce
Precision Planting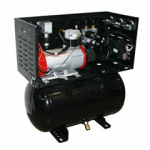 The Precision Planting 20/20 AirForce system provides automatic control for down and up pressure across the planter. The key for the 20/20 AirForce is taking measurements of the weight on the individual rows.
The Precision Planting AirForce system works with the 20/20 SeedSense (Gen 1 or Gen 2) to make automatic changes while planting allowing you to:
Decrease germination rates and fewer plant amount
Increase plant strain lowering ear girth and length
During dry years with hot summers stressing plants at pollination
There are three main components of the Precision Planting 20/20 AirForce:
Air Compressor – the main component to the 20/20 AirForce system. Offered as an electrical or hydraulic model. If planter is equipped with air bags the air compressor ties into the existing airbags to control downforce on the planter.
Down Force Sensor – quantify the extra weight on the gauge wheels so reduction in sidewall compaction can be reduced and down force can me managed
Row Unit Module – the accelerometer and processor for down force. Bolted to the row with the Smart Pin. Watch how smooth or rough the row units are riding and see the impact this ride is having on seed spacing.