Used Equipment
This is the page to find pre-owned equipment. We strive to describe the condition of these parts accurately and in good faith. Feel free to contact us with questions, because all equipment is being sold AS IS, NO RETURNS.  No remaining manufacturer warranty exists for any equipment posted unless otherwise stated. And if you are interested in letting us sell your precision-ag hardware, contact us!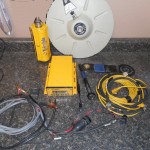 Trimble MS750 RTK Base Station Kit — Owner has moved up to Glonass now, but this unit used to serve as a mobile station for drainage work. Primary components are a Sitenet 900 radio, an MS750 receiver, and a Zephyr Geodetic antenna. One cable for GPS, one cable for radio, and a cable assembly for power/data. The power/data cable assembly has been modified from factory specs. One of the alligator clips needs to be recrimped, and there is a nick in the sheath of the "radio" connector cable that has damaged some of the outer mesh wiring. Also, factory replacement cabling can be purchased separately for $370. Asking $3000 OBO
Case-IH/Trimble 372 Rover Kit — This kit includes a Case-branded 372 GNSS receiver that is unlocked to RTK accuracy, a 900-MHz "Joey" radio, radio mast and antenna, and the mounting plate used with typical Case quick-connect roof mounts. Kit has been tested for functionality, and firmware for both components are current. If radio component is not needed, deduct $200 from asking price. Asking $5150.
Autofarm Paradyme Steering System — This kit is believed to have been from a Rogator sprayer. There is the antenna array, an Autofarm Viper touchscreen display (has been powered on as a test), a "converter box" that goes between the antenna and the display, and various cables and steering components. Asking $2000 OBO (not including shipping costs).
Trimble FmX display — Used for a few years as a service unit. Some cosmetic blemishes to the housing, but functional otherwise. This unit is "locked," i.e., no accuracy/feature upgrades applied. NO CABLES OR ACCESSORIES ARE INCLUDED WITH THIS UNIT; however, we can include those for additional costs. Asking $3000 OBO
Ag Leader Steering Angle (SA) Module (Wheeled) — Actually have two of these—one stamped "V 1.9", and the other stamped "V 1.11". Asking $245 OBO
Ag Leader Direct Command harnesses for Miller Nitro sprayer — Essentially these are the harnesses required to interface DC with the Nitro 4000 series system: 4000592-5 (Nitro switch cable) and 4001412-5 (Nitro N4 adapter cable). Asking $80 OBO
Trimble EZ-Guide Plus Display — Requires an outside source for GPS input. (Any third-party NMEA-enabled GPS receiver should be compatible, unless Trimble steering functionality is required.) Cost-effective lightbar. Power/accessory cabling can be provided upon request. Asking $500 each OBO
Trimble Greenseeker System — This kit was last used in 2014, and it has been on a shop shelf ever since. The kit is designed to interface with the FmX/TMX-2050 display. Six sensors and all necessary cabling. Asking $8000 OBO
AMVAC Insecticide Boxes — We have the AMVAC insecticide system from a 36-row JD DB planter. The manufacture date sticker on the motor units range from 2005 to 2007, so this is considered a "legacy" system. Asking $3000 OBO.
White 16R30 Planter — We have a White 8816 2012-model planter for sale. Center-fill planter equipped with 500-gallon ground-drive starter-fertilizer system. Equipped with Precision Planting vSet and vDrive, Deltaforce, Wavevision, and Seedsense display. Meters capable of corn, soybean, and sunflower. Yetter Sharktooth trash cleaners; new opener disks; 3.5″ gauge wheels that are only a year old; 1 smooth + 1 Martin spiked closing wheel per row; drag chains. Call for pricing.
John Deere Pro meters — We have 24 John Deere row units for sale. Last owner bought the planter but installed Precision Planting row units instead. Mini-hopper style with Pro Drive attachments. Corn and soybean disks included. Asking $4800 OBO (that's $200 per row). If you prefer, we can convert the meters to Precision Planting eSets for an additional $200 per row. We would also calibrate and test each row unit for best performance.