InCommand 800 Display
Ag Leader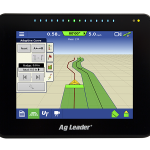 The InCommand 800 display is Ag Leader's newest all-around precision tool for guidance, automated steering, product control, yield monitoring and mapping. The full-color 8.4″ HD touchscreen is easy to read and offers precision farming control, with features that can be unlocked for increased functionality as your operation grows.
The InCommand line of displays allows you to stretch working hours and navigate your field even in darkness with its integrated lightbar. The display also supports multiple guidance patterns and signals – including RTK. You can apply liquid or dry product with variable rate as it offers AutoSwath automatic shut off.
EDIT: As of November 2020, the InCommand 800 is now available for "guidance-only" situations, reducing initial setup expenses. As your operation evolves, application capabilities can be unlocked.
There are six ways the InCommand 800 can help generate more profit:
Planter control
Application control
Yield monitoring
Completely integrated guidance
ISOBUS compatibility with many planters, sprayers, and applicators
Automated steering (with Paradyme, SteerCommand, or other systems)