GX450 Wi-Fi Modem
Trimble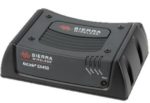 The GX450 Wi-Fi modem puts your display in touch with the rest of your operation. With cellular connectivity, the GX450 allows you to transfer data between the cab and the office, accommodate remote-assistance support, and more! You can use this modem for RTK via cellular (aka "NTRIP" or "VRS"). Utilize the TABS (formerly Connected Farm) and the FarmStream applications to stream weather reports, stock-market data, and on-farm operations to your cab!
Last, but not least, you can use the modem like a wi-fi hotspot for up to eight devices at once! Now that smartphones and tablets are being brought into the cab, the GX450 provides an alternative data-transfer option that is often more favorable than the data connectivity on your phone in sparse cellular environments (where most of your fields tend to be located—go figure).
Specify upon ordering whether you need a modem that is compatible with AT&T (GPRS), Verizon (CDMA), or generic GSM. This modem is compatible with the CFX-750, GFX-750, FmX, TMX-2050, and AG-372.
EDIT: The DCM-300 cellular modem is still available in limited supply. The DCM-300 does NOT provide wi-fi "hotspot" capabilities like the GX450, but it does have other features for legacy equipment. Please call for details.