2987 Magnum Fertilizer Application
Yetter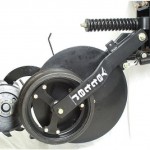 The Yetter 2987 is a single disk design for single or multiple products of fertilizer applications.  This solution is designed for low draft taking less horsepower to operate.  That in turn leads to less fuel being required.
Imagine operating at 10 mph and covering 40 acres an hour and covering 2,000 acres in 4.17 days.  This can be accomplished with the 2987 Magnum.
Ideal for Fall Application, Pre-Planting, and Side-Dressing applications
The 2987 is capable of applying anhydrous, liquid, and/or dry fertilizer at high speeds.