FieldView
Precision Planting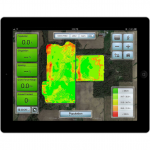 Precision Planting FieldView is an iPad application that works with the 20/20 to give imagery to the data being gathered during planting.
The 20/20 gathers and displays thorough information in realtime, now the Precision Planting FieldView provides the ability to view graphically the various data provided on the 20/20 SeedSense.
Five advantages Precision Planting FieldView can provide:
Graphical representation to quickly and easily identify planting issues
Data is stored on both 20/20 SeedSense and FieldView so redundancy in data
Built in GPS on iPad allows for easy field scouting during growing season.
The iPad and upload at the user's request data for troubleshooting
Data can be processed quickly to provide planting reports for insurance.Fieldview-Icon
FAQ
What iPad versions work with FieldView? 
iPad 2's and newer versions work with the FieldView application. It is recommended but not required to have 3/4G capability and not only WiFi to allow maps to update images while planting.
Does FieldView replace the 20/20 SeedSense monitor in the cab?
No, the FieldView module works in collaboration with the 20/20 SeedSense. Data is processed in the 20/20 and control of AirForce and RowFlow is still performed in the 20/20 SeedSense. The iPad can be used to import variable rate prescriptions to the 20/20 monitor.
Do I need the iPad in the cab while planting to get all of the information?
No, you can download all of the planting data at a later time. The only drawback is if there is an issue with the planter it might be too late to resolve.