BinManager
IntelliAir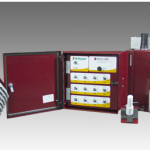 Does the fear of corn mold have you leery?  Crop spoilage is one of the greatest concerns for a farmer who is storing grain for future sale.  Grain dryers are an excellent solution, but what if your grain gets too dry and you lose quality?
•  Customizable to your operation
•  Saves time and money by running fans at optimal times
•  Manage bins remotely via internet/cell
•  Add moisture back into stored dry crops
•  All warnings are sent thru email and/or text message directly to your cell phone
The perfect solution is a bin manager that allows you to work efficiently in other areas of your farm operation without the worry and hassle of checking your bins.   Mitigated the worry with a bin management system that monitors and rectifies issues of concern and notifies you if there are hot spots in your grain or dryness is a concern.
Intelliair's Bin Manager system monitors the temperature and moisture content of your grain, along with outside air conditions in order to run drying fans at optimum times. With internet based monitoring you'll always know what your bins are doing and if they have had to adjust themselves to compensate for weather conditions or drying problems.