20/20 SeedSense Planter Monitor
Precision Planting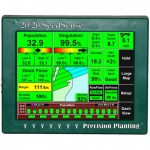 The Precision Planting 20/20 SeedSense is a planter monitor that provides:
More advanced information needed to make the best planting conditions than any other planting monitor available.
Mechanical problems you didn't even know you had and corrects them.
You perfect planter performance by adjusting meters, vacuum pressure, transmissions and speed.
Improves productivity by maximizing planter speed without compromising performance and at the same time measures and adjusts down force to eliminate compacting of the root system and slotting.
Five ways the Precision Planting 20/20 system can help every planter:
Achieve peak accuracy with each row
Plant at a speed that will not hurt seed accuracy
Attain the desired depth through applying enough row weight
Detect debris in a meter that can cause skips
Correctly apply downforce
There are three key components to the Precision Planting 20/20 Seed Sense Planter Monitor:
Smart Connector – the intelligence in the system . . . mounted on the planter the SC plugs in between the existing 37-Pin connector. The Smart Connector gathers the information from the seed tubes and processes it into more valuable information.
Down Force Sensor, aka "Smart Pin" – quantify the extra weight on the gauge wheels so reduction in sidewall compaction can be reduced and down force can be managed
Row Unit Module – the accelerometer and processor for down force. Bolted to the row with the Smart Pin. Watch how smooth or rough the row units are riding and see the impact this ride is having on seed spacing.